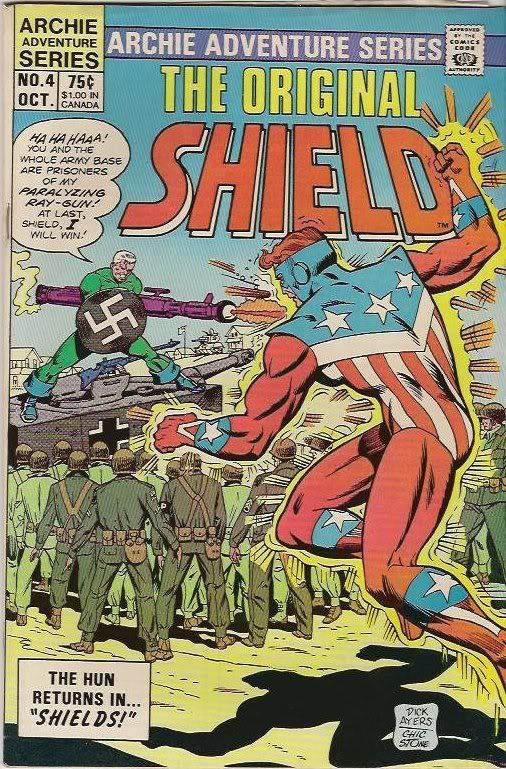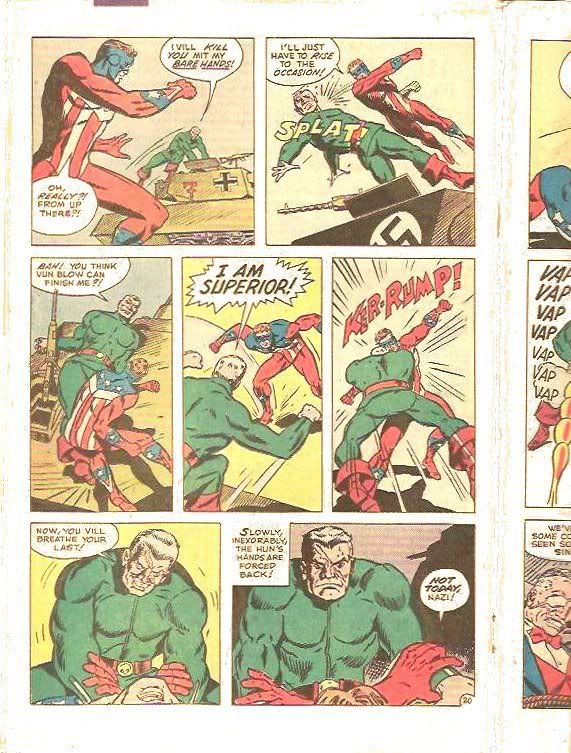 At last! A story that is exactly one issue long! An issue that contains exactly one story! Casual buyers of The Shield have been waiting half a year for this (this is a bimonthly title) and no doubt many have plunked their dollars down elsewhere due to the so-far fragmentary nature of the title.
"Shields" carries on the overlying storyline of the Shield's life, but most of the action is about The Hun, the villain from
the previous storyline
. He is searching for his magic shield, now held at an army base where Joe Higgins' friend Sgt Boyle is warning an old friend of the danger the Hun poses! The Comet makes a one page appearance just long enough to deliver the Shield onto the scene of the action, and to make a couple of comments obviously designed to be the seeds of future storylines. The situation quickly descends into a fight between the Shield and the Hun, though the book is well written and doesn't get boring for all the simplicity of the plot.
There is a highly implausible one page epilogue however, where the Shield tosses the Hun's shield away and in the next sequence it is shown to have "escaped" the military base by means of a garbage truck, the hint being that "if, as is suspected, the shield contains an
evil force
, might not its mystic call be visited upon
others?!
Only time will tell!". To me, the epilogue ruins an otherwise reasonable ending, still, it gives a sense of continuity for future issues.
The Hun was introduced well in this issue, including a flashback sequence from Shield-Wizard 8, although it did include one historically ridiculous and anti-German sequence featuring none other than Attila the Hun (which i thought could have been subtly finessed away to be honest). If this hadn't been the final issue of this title, no doubt the continuing storyline could have gone through several more arcs utilising elements from the three storylines we've already seen.
I have to say though the first thing i noticed about this issue was the noticeable downturn in the art quality. It's still Dick Ayers, but compared with the earlier two Shield stories, this is not a patch. The backgrounds are sparse, the panels are larger, the characters are drawn in a much sketchier, less detailed fashion. I wonder, was Ayers forced to rush this assignment? Or perhaps factors at Archie Comics resulted in this drop in quality. Either way, it's a shame because the writing and layouts are still up to standard. Having said that though, the simpler drawings and larger panels did remind me of the mid sixties Mighty Comics series, so perhaps a bit of nostalgia, which is what this comic is about, doesn't hurt that much after all.
Not as good as the two stories before it, but at least it's not a "to be continued"