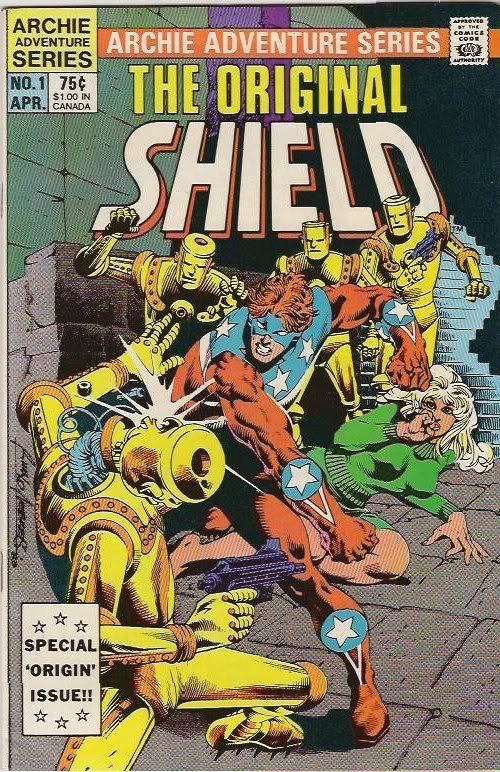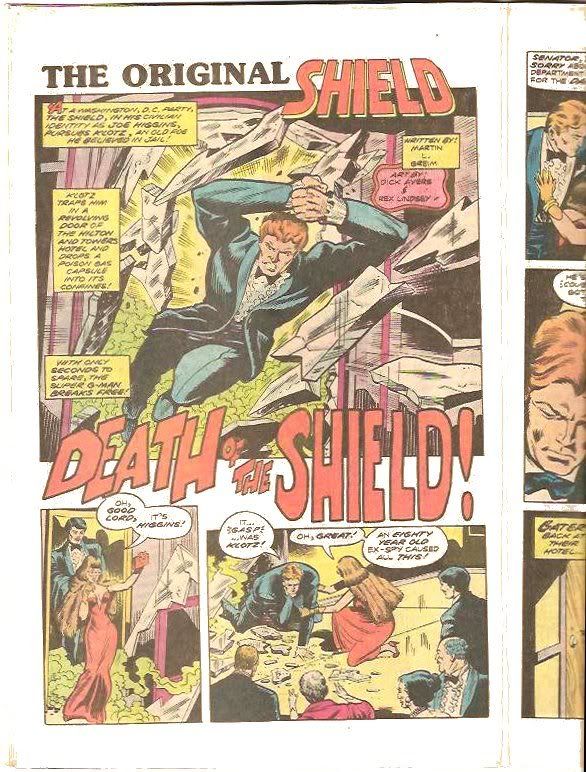 1) "Origins" in The Original Shield 1
2) "Power Shortage" in The Original Shield 2
3) "Death of The Shield!" in The Original Shield 2
4) "Reflections" in The Original Shield 3
5) "Prey" in The Original Shield 3
"Origins" starts in the second half of The Original Shield issue 1. I've already
reviewed the first half of Original Shield 1
so i won't go into it here. The second story arc of this title begins (after a great splash page of The Shield fighting three robots) with a neat backreference to the previous storyline. The suspense is kept up and Joe Higgins travels to his old base of operations, Washington, on the trail of some robots that an old enemy, Klotz, ordered to destroy the president, and now they want to carry out their mission, 44 years later! In this story, we see an excellent flashback sequence retelling the Shield's origin and revealing the situation regarding his first battle with Klotz and the robots. We're led to believe this is from Pep Comics 1, however a quick check reveals that Pep Comics 1 was the Shield's *second* brush with Klotz! Also, in "Origins" it is implied that Klotz is a German, however Pep 1 clues us in on his true nationality, a Stokian no less!
The artwork and layouts maintain the high standard we've already seen in this title and this carries over into the next issue, where we see more excellent flashback sequences. In the first half of the issue it's flashbacks to Pep 11 and 30, where The Shield met Dusty, his sidekick, and lost his powers, respectively. I actually own a copy of Pep 30, but when i went to check out the original story i was dismayed to realise my copy's missing the outer eight pages or so, which means i'm missing the entire Shield section and also the Archie section! Nevermind, this flashbacks almost as good! While this is all being retold, the actual plotline about the robots and the interpersonal relations of all the characters is still trundling along nicely, it's a most engaging storyline.
Part three in the same issue, more suspense, more great art, more flashbacks! This time it's the Shield-frozen-as-statue sequence from Mighty Crusaders (vol 1) issue 1 that gets the flashback treatment, and well done it is too. Klotz himself makes an appearance in this story, though 44 years haven't been kind to him.
Nevermind, he blows himself up in a crazed suicide attempt on the Shield's life, killing himself, but of course, not the Shield, who emerges unharmed in issue 3 and immediately starts to recall to himself the important events of his life from Mighty Crusaders 1 to the present day. This backstory is all new, and hasn't been shown in comics before, and it explains a few things quite nicely. Also, in this part the Shield finally comes face to face with the Stokian robots and eventually stops them from assassinating the president. There's another twist ending, sort of, which this series seems to really thrive on.
finally, part five, sort of... The second half of issue 3 has a sort of epilogue to the "Origins" storyline. Delta 3, the evil and covert organisation which has been Joe's nemesis so far throughout the series, recruits a couple of weird super villain hitmen called Mega and Bit to kill the Shield. They kidnap his FBI boss, Lisa Carvin, who shows that she is every bit the FBI professional under stress, by KOing Bit with a vase while the Shield hangs immobile in mid air! It's still a good story, though i know it sounds a bit tongue in cheek. The artwork's still up to the usual standard and so's the characterisation.
This second Shield story arc is easier to collect
than the first story arc
, you just need Original Shield 1, 2 and 3. Every issue has a letter column too, which i like. Issue 3 even has one of those Archie style "joke" pages. Well, nothing's perfect! Anyway, i think this story is a very successful attempt to bring the Original Shield up to date. In a way they chose well here because this is a good starting point for the character, and it doesn't rely on the previous Boroff story very much at all, thus catering to those who started reading with Shield issue 1 (myself included).