Archie & Friends 107 - Katy Keene in The Web Returns! April 2007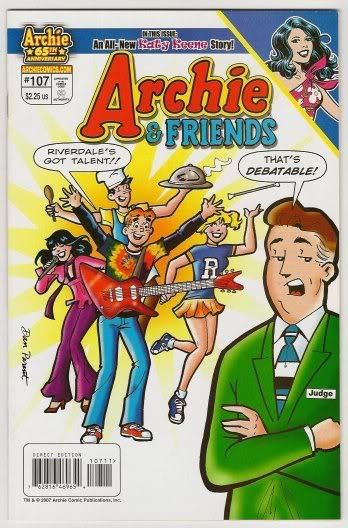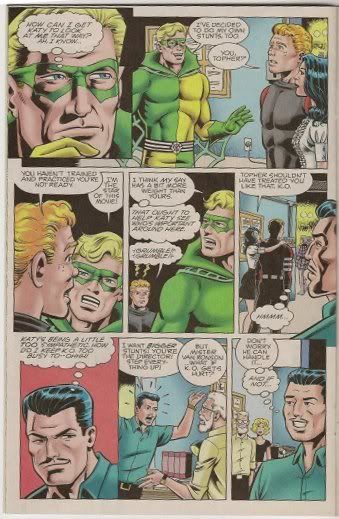 This issue actually has two stories. The first, an eleven page "Archie and Friends" story is a nice tale, but not really worth more than one read for anybody over the age of twelve. Nothing wrong with it, it's just not quite my thing. Still, this is an issue of "Archie and Friends", so i can hardly complain.
The second story is what i bought the issue for, it's a ten pager featuring The Web, a superhero who hasn't seen print in approximately thirteen years and hasn't been published by Archie in approximately 23 years! It's a little disappointing to me that the Web doesn't get an appearance or even a mention on the cover, but nevermind... The artwork in this story's slicker than the lead story, the colours are nicer. I did like this story, i wanted to like it, but i have to say it could have been a lot better. The actual Web doesn't make an appearance, it's actually Katy Keene making a film about the Web, which is cute, I like that angle. The story however revolves around a bizarre jealousy driven actor in an odd unrequited love triangle with Katy Keene at the centre of it. All well and good but the guy's actions lead to life threatening situations on more than one occasion! In short i didn't find this story believable. Really, i thought the adults in the story were being written as though they were young high school kids. Having said that it's good to see the Web back again, he's not seen print very much in recent decades. I hope he makes another return sometime soon...
One final note, i really liked the double page spread showcasing readers' drawings, that's something you won't get in a DC comic these days!