From
http://music.aol.com
AOL's 10 Coolest Cartoon Rockers
1] The Chipmunks
2] Gorillaz
3] The Archies
4] Josie & the Pussycats
5] Bart Simpson
6] Fat Albert and the Junkyard Gang
7] Dethklok
8] Jem & the Holograms
9] Crazy Frog
10] Faith + 1
Coolest Cartoon Rockers: No. 3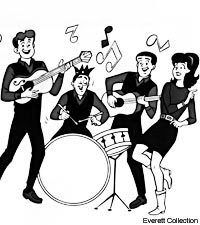 The Archies
When They Rocked: 1968-69
The Archies were the Beatles of virtual bands -- innovators whose sugary hooks and catchy choruses spawned a legion of inferior imitators (The Bedrock Rockers, Jabberjaw). The Riverdale High quintet scored several hits in the late '60s, but 'Sugar, Sugar'-- the No. 1 song of 1969 -- remains the band's claim to fame.
Coolest Cartoon Rockers: No. 4
Josie & the Pussycats
When They Rocked: 1970-74
The Go-Go's, L7 and every other female rock group in history has Josie & the Pussycats to thank for leading the charge. The feline power trio looked adorable, rocked hard and still had time to solve crimes between gigs. A limited-edition CD of the group's songs was released in 2001, shortly after Rachel Leigh Cook donned Josie's ears for a live-action big-screen adaptation.